The Weekly Lowedown 11/26 – 12/2
Movie Corner fans,
I would like to spend a minute outside of the norm and wish my mother a happy birthday. She would have turned 69 on 12/1 and she passed away in 1991. I never think about the day she died, but rather the day she was born. In celebration of that, I'll quote from her favorite movie:
"Look, I've got a gun out there in my purse. And until now, I've been forgiving and forgetting because of the way I was brought up. But I tell you this: If you ever say another word about me or make another indecent proposal, I'm gonna get that gun of mine… And I'm gonna change you from a bishop to a rabbi with one shot!"
I may work 9 to 5, but the rest of my time is spent watching movies that I buy for my collection…no taken and no given what a way to make a living. Let's look at this week's cinematic wonders…
***********************
Here's The Lowedown on "Valerian and the city of a Thousand Planets" (PG-13 – 2017 – US/France)…It's our mission that doesn't make sense, sir."
Cast=10 Acting=6 Plot=7 Ending=9 Story=4
CGI=10 Tech=10 Pace=5 Comic=7 Funny=5
A dark force threatens Alpha, a vast metropolis and home to species from a thousand planets. Special operatives Valerian and Laureline must race to identify the marauding menace and safeguard not just Alpha, but the future of the universe.
"After centuries of peace and prosperity, an unknown force wants to destroy all we have created." I got what I wanted out of it…if you are looking for visuals, then this is worth seeing. I could not get too invested in the characters, though as the story lagged a bit and was predictable. Maybe you have to be a fan of the comic book to appreciate it more. Rihanna was a high point for me even though she has a small part. If they gave Babylon 5 a $200 million budget, I imagine it would look a lot like this.
***********************
Here's The Lowedown on "The Hitman's Bodyguard" (R – 2017 – US)…This man single-handedly ruined the word M*****F***er!!
Cast=10 Acting=8 Plot=9 Ending=9 Story=6
Violence=8 Pace=8 F/X=9 Funny=8 Chemistry=9
The world's top bodyguard gets a new client, a hit man who must testify at the International Court of Justice. They must put their differences aside and work together to make it to the trial on time.
"Go with God…This man's killed over 150 people." "250…easy."
This movie was just plain fun!! The story lacks a bit…I think they could have gone a different way with it. I LOVED Salma Hayek in this…she was hilarious!! Predictable? sure it was. If you're looking for an Oscar nomination, well you might be disappointed. But for a straight-up action flick, it's a 200-yard head shot through an airplane window with no wind…just about perfect!
*************************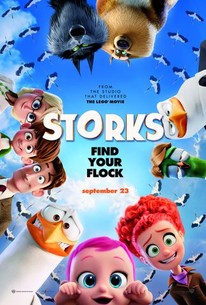 Here's a Better Late than Never review of "Storks" (PG – 2016 – US)…Pretty adorable!!
Cast=8 Acting=6 Plot=4 Ending=9 Story=6
Art=9 Voice=10 Music=6 Family=10 Funny=6
Storks have moved on from delivering babies to packages. But when an order for a baby appears, the best delivery stork must scramble to fix the error by delivering the baby.
"Just a brief exposure to baby cuteness can ruin your life!" This actually turned out to be a special delivery…not first class mail, but I was willing to sign for it. Although I did not like the premise, this ultimate family movie more than caught up with some great voice-overs and a solid ending. Your wolf pack will not form a broken heart after this one…it ended up softening mine. I recommend this for families with younger children…the cute level was a high 8 with a diaper and big eyes.
*************************
Here's The Lowedown on "Justice League" (PG-13 – Theatrical – US)…I push people and run away!!!
Genre: Fantasy/Comic Book
Cast=10 Acting=7 Plot=7 Ending=9 Story=7
Imagine=9 CGI=9 Pace=8 Comic=6 Funny=7
Fueled by his restored faith in humanity and inspired by Superman's selfless act, Bruce Wayne enlists the help of his newfound ally, Diana Prince, to face an even greater enemy.
"People said the Age of Heroes would never come again." The CGI was amazing…except for one part that kept bugging me throughout the movie. The cast came together well and I liked the movie as a whole, but the Marvel Cinematic Universe is about 2 years ahead in the intensity and love for the characters. If you are nervous about watching this, just remember to save one and see what happens from there. As a comic book fan, I had to go see it in the theater.
***************************
Here's A Better Late than Never review of "Rupture" (R – 2016 – US)…They need us!!
Cast=7 Acting=9 Plot=6 Ending=4 Story=5
Intense=7 Pace=4 Script=5 CGI=7 Tech=4
When a secret organization stages an elaborate abduction to induce a metamorphosis, a single mother fights to stay alive amidst facing her greatest fear…if for nothing else then to get back to her son.
"You'll feel it soon…I'm sure of it." This is one of those movies that will make you think you're on drugs or you should be to watch it. It felt like they took genetic experimentation and made it to look like "Hostel". There are a lot of holes in the story and I did not care for the ending, but I love Noomi Rapace…she made the movie for me. Unfortunately, my G1012X gene is still in tact, so I didn't think this was worth more than a meh. This is a rare film where the middle is the best part.
***************************
Here's The Lowedown on "The Limehouse Golem" (NR – 2016 – UK)…Here we are again!!!
Cast=7 Acting=9 Plot=8 Ending=8 Story=8
Intense=6 Pace=5 Script=8 Crime=9 Twist=7
A widow faces murder charges for the death of her husband and a detective believes that husband could be the Limehouse Golem serial killer.
"Are we here to find a killer…or save a woman?" This reminded me a lot of "Perfume" or "The Raven"…a period piece in Victorian London about a serial killer with a flair for the dramatic. There was gore and a serious twist that makes it worthy of the horror fan. It was a bit slow, but I liked all the characters. Olivia Cooke was reminiscent of Christina Ricci…I guess because of the fashion as it's similar to the Lizzie Bordon movie. I think this is worth a watch for a slow burn thriller with some great scenes.
************************
In a Nutshell:
Title
Genre
Aspects
Score
Valerian and the City of 1000 Planets
Sci-Fi

Cast=10 Acting=6 Plot=7 Ending=9 Story=4

CGI=10 Tech=10 Pace=5 Comic=7 Funny=5

7.3
The Hitman's Bodyguard
Action

Cast=10 Acting=8 Plot=9 Ending=9 Story=6

Violence=8 Pace=8 F/X=9 Funny=8 Chemistry=9

8.4
Storks
Animated

Cast=8 Acting=6 Plot=4 Ending=9 Story=6Art=9 Voice=10 Music=6 Family=10 Funny=6

7.4
Justice League
Fantasy

Cast=10 Acting=7 Plot=7 Ending=9 Story=7Imagine=9 CGI=9 Pace=8 Comic=6 Funny=7

7.9
Rupture
Thriller

Cast=7 Acting=9 Plot=6 Ending=4 Story=5Intense=7 Pace=4 Script=5 CGI=7 Tech=4

5.8
The Limehouse Golem
Thriller

Cast=7 Acting=9 Plot=8 Ending=8 Story=8Intense=6 Pace=5 Script=8 Crime=9 Twist=7

7.5