The Lowedown – January 2018
Well, my friends, the time has come…to write reviews and have some fun…throw away, the work to be done…let the reviews play on!
I can go "All Night Long"…all night…but the work I did on the Lowedown awards interfered with my movie watching and review writing.
Now that I'm starting to catch up…people dancing all in the street…see the rhythm all in their feet…life be good, wild and sweet…let the reviews play on!
Let's start with my January reviews…Tom bo li de say de moi ya…yeah jumbo jumbo!
*******************************************************
Here's The Lowedown on "Flatliners" (PG-13 – 2017 – US)…It's a great day to die!!
Cast=8 Acting=6 Plot=8 Ending=7 Story=5
Scare=3 Jump=6 F/X=7 Creep=7 Twist=4
Five medical students conduct an experiment to find out what the afterlife is like. As they try to kill each other and come back to life, they get more than they bargained for.
"I did not know that our side effects would start hunting us down." Not bad…pretty creepy and a solid cast. I had two major problems with this: 1. They really needed to make this a rated R film. It played better as a supernatural thriller than a horror film. 2. How could you possibly put Keifer Sutherland in the movie and not have him play the same character? It was a pretty good watch, but the only thing that made it better than a meh was the budget.
**********************************************************
Here's The Lowedown on "American Made" (R – 2017 – US)…It's not about the room…it's about weight!!
Cast=7 Acting=7 Plot=8 Ending=7 Story=9
Violent=7 Pace=8 F/X=8 History=8 Interest=9
The story of Barry Seal, an American pilot who became a drug-runner for the CIA in the 70's and 80's in an operation that would be called "The Iran-Contra Affair".
"Did you know that Caddys have more trunk space than any other car?" No, I didn't Tom…thanks for that. I knew about the Iran-Contra issue from the late 70's and early 80's, but this was kind of a look behind the curtain or rather under the skirt of the government and how they view doing the wrong things for the right reasons. I thought it was a solid film…and no I did not get one of those suitcases full of money. I would gladly pay the baggage fee if I had one of those…
***********************************************************
Here's a Better Late than Never review of "Birth of the Dragon" (PG-13 – 2016 – US)…I will accept your challenge!!
Cast=4 Acting=5 Plot=7 Ending=6 Story=3
Violent=7 Pace=5 F/X=6 Fights=6 History=4
Inspired by the legendary fight between Bruce Lee, an up and coming master in San Francisco…and Wong Jack Man, great Shaolin monk travelling to the city to work out his own issues.
"Your technique is impressive, but it has one limitation…you." I love all things Bruce Lee…and I was interested in this story that focused on this fight. The fight scenes were decent, but they could have been better. The biggest problem I had was they butchered the story to something akin to the old "save the girl" ploy. This was a big-time letdown for me and no better then a meh…even if you are a martial arts movie fan.
************************************************************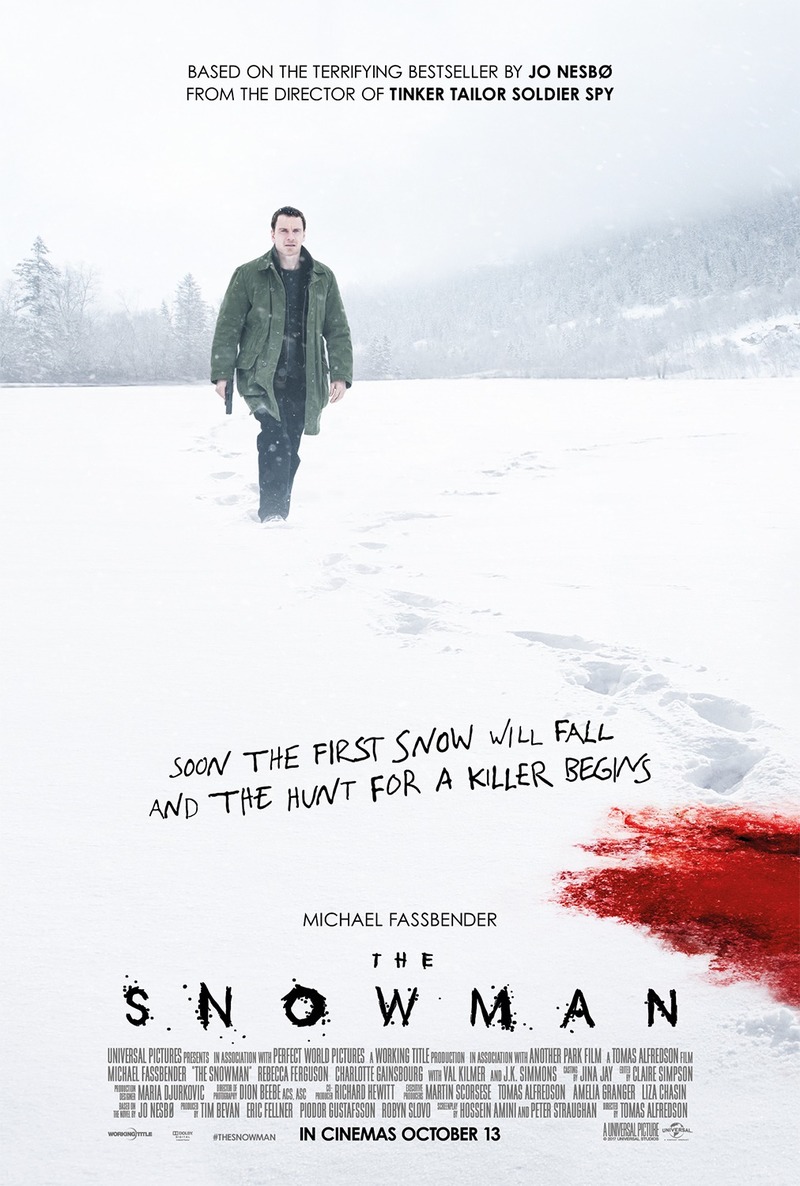 Here's The Lowedown on "The Snowman" (R – 2017 – UK/Sweden)…I apologize for Oslo's low murder rate!!!
Cast=8 Acting=8 Plot=9 Ending=4 Story=4
Intense=5 Script=3 Pace=4 Crime=7 Twist=5
The great detective Harry Hole is called on to investigate a series of disappearances; which involve notes to him and ominous snowmen built at the scene.
"Cutting things up…that's what a child does to maintain order." On paper, this looked like a great thriller. Then I had the unfortunate luxury of actually watching it. The acting and the premise were solid, but it went downhill from there. It was good to see Val Kilmer, but you could tell he was sick and the voice over for him was odd. There was no real mystery to this and once the killer was revealed I fell asleep. So I have no choice but to wait for another movie as good as "Se7en" or "The Bone Collector"…this was only a slightly good watch.
************************************************************
Here's The Lowedown on "Jumanji: Welcome to the Jungle" (PG-13 – Theatrical – US)…Don't cry don't cry!!!
Cast=9 Acting=6 Plot=7 Ending=8 Story=6
Funny=9 Chemistry=8 Script=6 Imagine=7 CGI=8
Four teenagers serve detention and are sucked into a magical video game when they happen across it in the basement. They must finish the game and get back to their reality.
"I got a backpack on! You don't get in water with a backpack, everybody knows that." This was a lot of fun…a little silly at times but the chemistry worked with the characters. Jack Black shines in his role…I never thought I'd say that but he did really well as a stuck up high school chick. The homage to the original was cool and I laughed out loud at the character contrast. I may be missing the top two feet of my body, but cake will not make me explode…you won't waste a life by seeing this if you're up for the zany.
************************************************************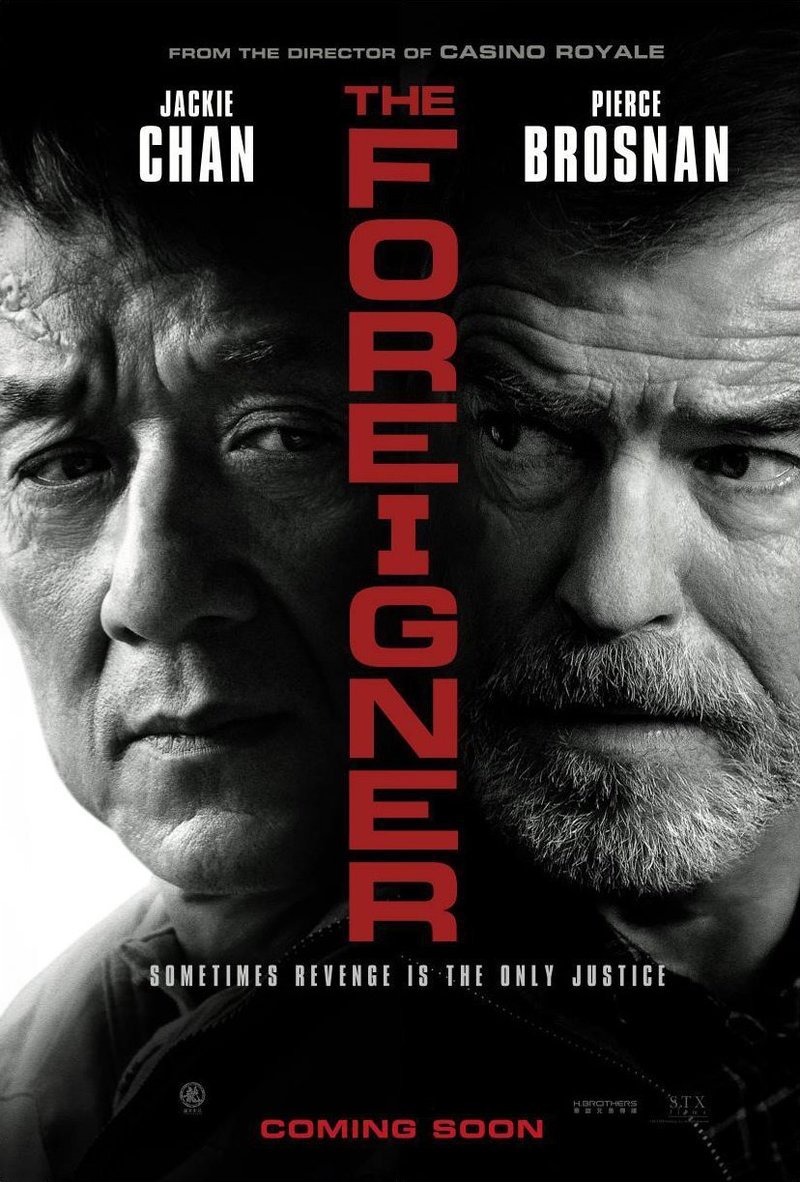 Here's The Lowedown on "The Foreigner" (R – 2017 – UK/China)…Give me the names!!
Cast=7 Acting=8 Plot=6 Ending=8 Story=7
Violent=8 Pace=7 F/X=8 Intense=7 Twist=6
A restaurant owner with a checkered past seeks justice when his daughter is killed in a bombing. A conflict ensues with a government official, who seems to know more than he would care to admit.
"Politicians and terrorists, they are just 2 ends of the same snake." Don't get me wrong, you get the same fight scenes as you would from any Jackie Chan movie (not that that's a bad thing). I don't think I have seen a movie where Jackie fights with anger…it set a different pace and tone for the film that I liked a lot. Chan's acting is much better when he is in pain….all in all a pretty solid film. If you are any type of Fan of the Chan….this is worth a watch!!
****************************************************************
Here's The Lowedown on "Blade Runner 2049" (R – 2017 – US)…Things were simpler back then!!!
Cast=9 Acting=8 Plot=7 Ending=7 Story=8
CGI=10 intense=7 Pace=4 Tech=7 Future=8
Thirty years have passed and a new Blade Runner is retiring past replicants. When he stumbles onto a monumental discovery, he seeks out the original Blade Runner to help solve the mystery.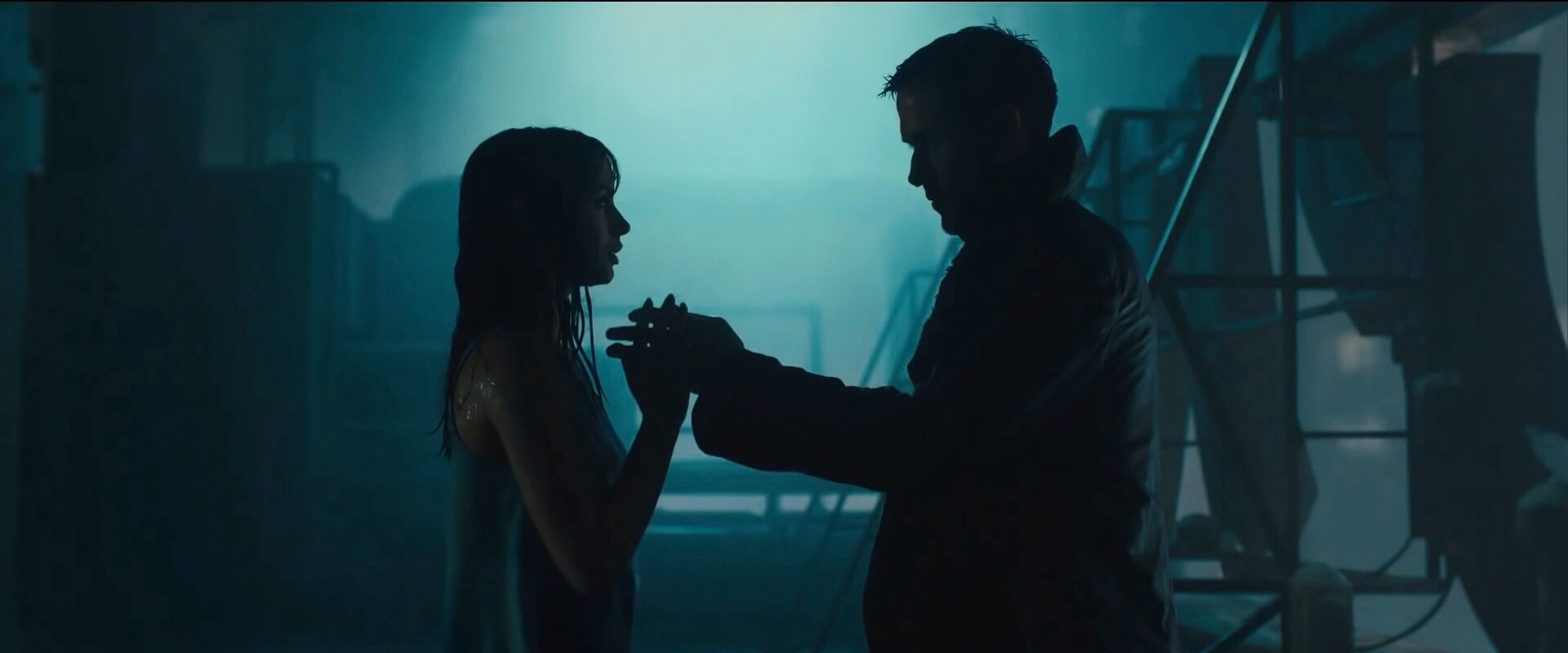 "Pain reminds you the joy you felt was real." Other than the movie being 2 hours and 44 minutes…I liked it a lot!! It reminded me of the original film and brought some new elements I enjoyed as well. Some thought that Ryan Gosling was unemotional in his role, but that worked really well for me. You have to be ready for a marathon with some drag points, but IMO this is worth seeing for sure!! You'll find out when you watch that all the best memories are yours.
*******************************************************************
Here's The Lowedown on "It" (R – 2017– US)…It was real for Georgie!!!
Cast=5 Acting=7 Plot=10 Ending=7 Story=9
Scare=8 Jump=7 F/X=8 Creep=9 Reboot=8
After recent cases of disappearing local kids in the town of Derry, a group of kids in the summer of 1989 encounter a shape-shifting demonic entity that preys on their fears.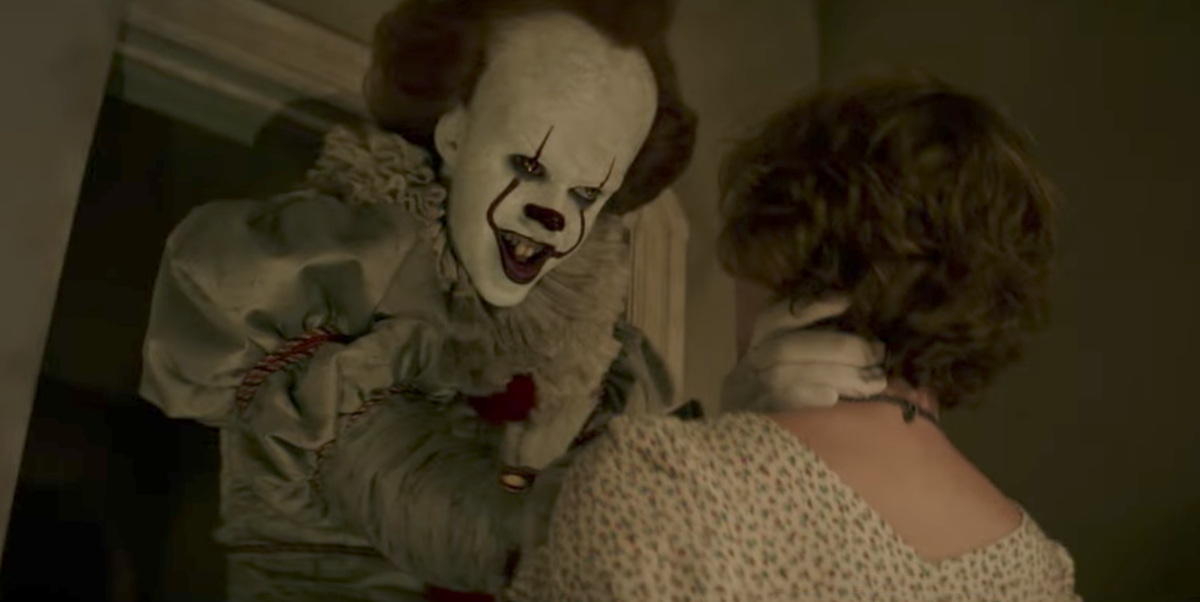 "There are two places you can be in this world…you can be out here like us…or you can be in there like them." I don't think I want to be the sheep or the butcher…I'll just be the guy that buys the sweater. I liked this reboot a lot!! Although I did give it a lower total score than the original, there were a lot of things I enjoyed a lot more here. The only thing was that Tim Curry is the only real Pennywise…no one will ever change that for me. But there was a lot to love with this one…it's very much worth a watch!!
********************************************************************
In a Nutshell:
Title
Genre
Aspects
Score
Flatliners
Horror

Cast=8 Acting=6 Plot=8 Ending=7 Story=5

Scare=3 Jump=6 F/X=7 Creep=7 Twist=4

6.1
American Made
Action

Cast=7 Acting=7 Plot=8 Ending=7 Story=9

Violent=7 Pace=8 F/X=8 History=8 Interest=9

7.8
Birth of the Dragon
Action

Cast=4 Acting=5 Plot=7 Ending=6 Story=3

Violent=7 Pace=5 F/X=6 Fights=6 History=4

5.3
The Snowman
Thriller

Cast=8 Acting=8 Plot=9 Ending=4 Story=4

Intense=5 Script=3 Pace=4 Crime=7 Twist=5

5.7
Jumanji: Welcome to the Jungle
Comedy

Cast=9 Acting=6 Plot=7 Ending=8 Story=6

Funny=9 Chemistry=8 Script=6 Imagine=7 CGI=8

7.4
The Foreigner
Action

Cast=7 Acting=8 Plot=6 Ending=8 Story=7

Violent=8 Pace=7 F/X=8 Intense=7 Twist=6

7.2
Blade Runner 2049
Sci-Fi

Cast=5 Acting=7 Plot=10 Ending=7 Story=9

Scare=8 Jump=7 F/X=8 Creep=9 Reboot=8

7.5
It
Horror

Cast=5 Acting=7 Plot=10 Ending=7 Story=9

Scare=8 Jump=7 F/X=8 Creep=9 Reboot=8

7.8